May, 2016
Hi, my friend! Thank you for stopping by,
My name is Traian and I am a 34 year-old east-european calling himself a learning architect. I worked for the past twelve years trying to transform higher education in Romania. I was a student activist for more than four years and then I co-founded the Alternative University in Bucharest, where I worked for 8 years.
I love my work and I consider re-inventing universities one important milestone for humanity going forward. Contributing to this gives meaning to my life so I plan to continue on this path for many years to come. Now I feel ready to shift gears and to aspire to a new level of impact. So this project came to be.
The book
Break/Free will be a book for teenagers about universities. Its story will walk them behind the stage of the overwhelming and irresistible reputation that universities have. It will shed fresh light on their upcoming rite of passage into adulthood. My reasonable expectation is to help its teenage readers adjust their university experience while inside the university system.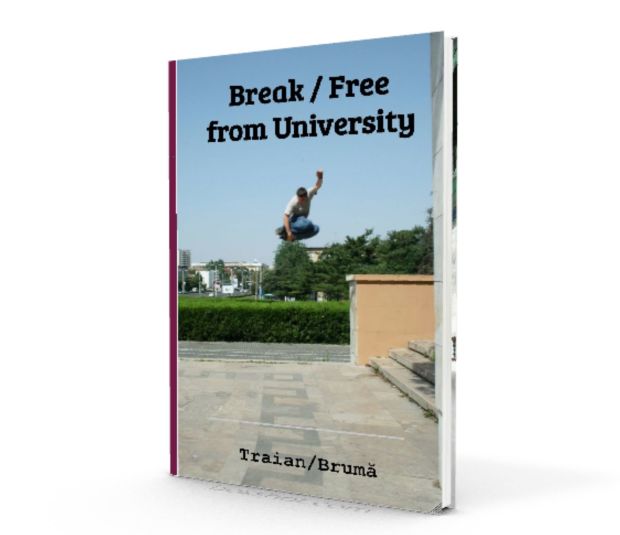 The unreasonable hope in my heart is that small groups of brave, freedom-loving young people will be encouraged to do the unthinkable: say no to everything an established institution of higher education has to offer and create their own. I will make the case that stepping away from the beaten track can be more more risky, messy and exhausting but in the end, this unconventional route into adulthood can make its walkers more alive and joyful, can free them from the obsolete mental models of the present and it will empower them as adults.
The book will outline a vision for higher education where students assume the role of creators and full owners of their universities and not consumers. Its graduates can better challenge the status quo, can rebel against the broken ways and refresh society. This book will hint at a network of self-organized learning environments that unite into a game-changing, global university. This is my starting premise. I will allow the journey that follows to shape it.
More info: Didn't they write this book already?
The learning journey
I will gather stories from all continents of the world about individual learning journeys, radical learning architectures, communities, hubs, hackerspaces, rituals and neat tech tools. It will have charming characters going through breathtaking adventures. I will include some of my own stories of the past 12 years in building The Alternative University. I will put them all together into a master narrative that gets personal and subjective. Hollywood will come begging to make a movie :-).
But the journey is more than a documentation for the book. It is a quest for inspiration, connection and my personal transformation, guided by questions like: How do the 7 billion people on Planet Earth live? What is important to them? How do these people get good at living life? What is the best ice cream in town? How can the 23.729 universities in the world help the two billion people under 20 to flourish and transform our world? What else is there and who else is there? What is possible next?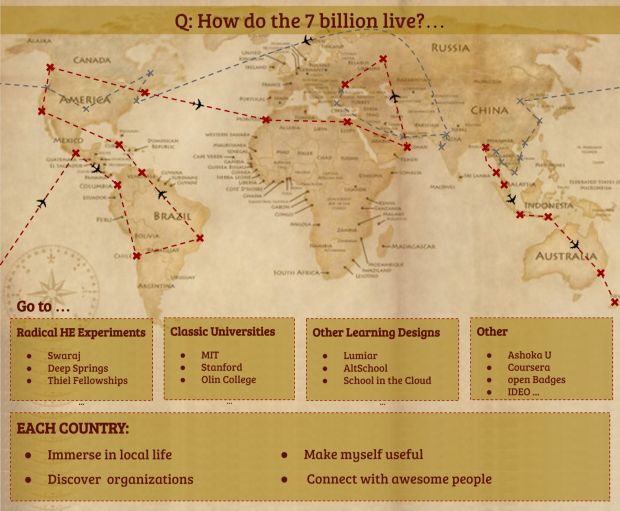 More info: Where do I go | What do I intend to do in each country
And it leads to …
I believe that the world needs to take a turn from the current direction. There are 2.3 billion people under 20 and 23.729 universities. These universities will not have enough places. Even if they did, their economic model is too expensive for many more people to go. And even if we had resources, we know that their learning model is ineffective; even counterproductive in nurturing the entrepreneurial changemakers that could steer the world in another direction.
I see myself as part of a global tribe of people that played for a long time at the edges of higher education. Long enough to know that something radically better is possible at a big scale: universities that are inexpensive, accessible to many more and effective in nurturing people to flourish and transform their world.
I want to dedicate my next years to that possibility. To upgrade my work to that level, I need to upgrade myself. It is a challenge that requires a deeper level of creativity, a better awareness of the world and an ability to connect with people worldwide. There are things to learn and things to unlearn. I hope that making the journey and writing the book will also enable my transformation:
from a local worldview to a big picture, global awareness;
from reading about people I admire to making selfies with them;
from Romania focused to being globally connected;
from busy and burned-out to being in flow and taking time for quality work;
from entrepreneur to learning architect;
from boring explainer to charming storyteller;
from telling others to "learn like crazy" to walking the talk big time;
from a good human being to a better human being.
In the end, my whole life is no more than a drop in the ocean. No journey will change that. But I feel that, in some way, me walking this individual path of mine is part of a bigger collective story that is being born around the world. The ocean is made out of drops. My intuition whispers to me that the world will change thanks to our mindful efforts but in a way that will surprise all of us. And so I focus on bringing my gift to the world wholeheartedly and I trust the process that it will change the world.
What do I Need
For the full version I need roughly 20 flights of 60.000 km, visas for 19 countries on 5 continents, 300 days of food, accommodation and urban transport in 30 cities. All this will get me to the core of this journey: more than 600 beers :-). Worst case, it can also be hot chocolate or water, just to sit in front of a glass for three hours and interview fascinating people or sit by myself and write. It all adds up to a total of 17.000 euros necessary to complete this journey. (see the detailed budget)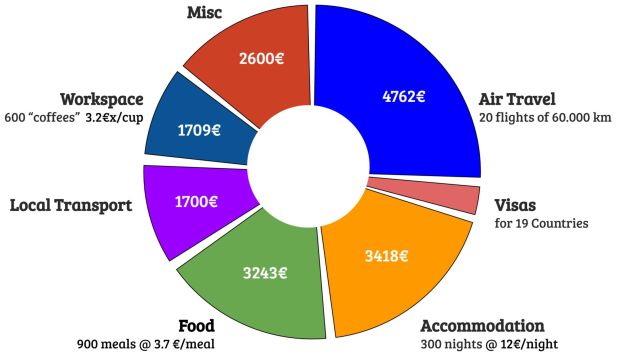 More info: How I travel this cheap (or this expensive)
What do you get
I am determined to write a good book that would inform, fascinate, clarify and entertain its readers. I hope you will get inspired, you will want to share and recommend it and be proud to mention that you have supported this book.The same goes for all the perks: I fantasize how they will be a delight to you. Even beyond the perks, I will be hunting for opportunities to contribute back something that is meaningful to each one of my backers. Here is one of those tables that will make me look like selling freemium software, followed by short descriptions: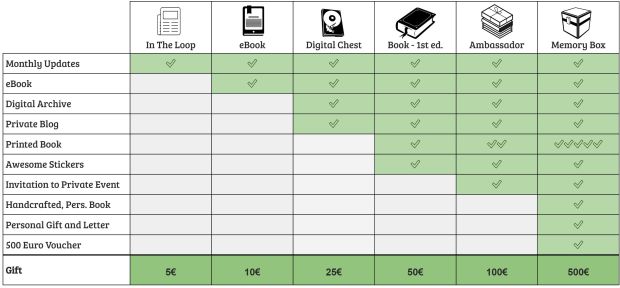 | | |
| --- | --- |
| In The Loop. If you want to buy the book later and just encourage me to do this with a gift of 1€ to 9€, the least I can do is send you monthly updates of my progress and thank you on this website. | |
| eBook. For a gift of 10€ you will get a nice and clean formatted ebook in pdf, mobi and epub formats so you can read it on your smartphone, tablet, kindle or laptop. I will send monthly updates and thank you on my website. | 10€ |
| Digital Chest. Curious to peek behind the curtain? For a gift of 25€ you will get the ebook and the monthly updates plus access to a private blog with more frequent and more personal updates. Together with the ebook, you will get a nice and tidy archive of my learning journey documents, personal notes, lists, expenses, timesheets, badges, templates and extra material (interviews, bonus chapters) that did not get into the book. | 25€ |
| Printed book – 1st edition. For 50€ you will get all the electronic goodies but also the first edition of the printed book. It will be a special edition for this campaign supporters, limited to 200 copies. As you open it, you will find my handwritten thank you note and dedication and some cool stickers. Shipping is included. | 50€ |
| Ambassador Combo. For a gift of 100€, you will get all the electronic goodies, one copy of the printed book for you and one copy to offer as a gift to a friend. Both of them will have a dedication in handwriting. As you browse through the book, you will find your name printed inside, on the list of supporters. Also, you will receive an invitation to a special event in Bucharest for friends and supporters. It will be something to remember. | 100€ |
| Memory Box. For a gift of 500€ or more, I will invite you to dinner to personally deliver a unique and personalized box. You will find there a handcrafted book with a special cover and inserts from my journal and other memories from my trip. You will also find a gift from the trip, brought specially for you with a handwritten letter from me. It will be connected with a story that was meaningful to me in this journey. It will be a symbol of your trust in my learning journey. You will symbolically own a moment of my becoming. For your friends, you will get 5 printed books and a voucher worth 500 euro that can be used for an individual counseling program (10 sessions) or attending two workshops. The topics will be "art of learning", "becoming a learning architect" and "the big (hi)story". | 500€ |
More info: Tempting gifts for organizations that might want to support me. | Risks & Challenges
The Impact
My happiness. After 8 months on the road, traveling is more challenging than fun but as a whole, this learning journey is an important turning point in the pursuit of happiness and meaning in my life.
Pay it forward. Over the course of the next 10 years, I will set aside from my savings a fund at least equal to what I have received for this learning journey. From the fund, I will support at least 10 people in their self-designed learning journeys, asking them to pay if forward the same way. I hope this will encourage a tradition of community support for self-designed learning journeys.
The social impact. I know that many of you will not be motivated by getting something back. Not even a good book. Rather, by backing me in this project you expect me to come back wiser and do good work in education. I am also motivated and guided by the possible impact of my work beyond the book. Writing a good book is a start for a longer journey in the next ten years: to make that book's vision a reality.
One last word
I am standing here after countless hours of writing about me, me, me and my turning point and my journey. My skeptical and fearful self whispers: "no one will give a shit and read this!". And you are reading these last words. It means a lot to me.
If you end up supporting this project or not, I hope that we will meet someday and you will enjoy having me around  – by then a more kind and interesting human being. And if you turn your attention to my work again in the future, I hope you will notice a more impactful work.
But the most noble part of me wishes you well without me in the picture. I hope that when you'll have a turning point in your life, the people you need will be there to take notice, to listen or to read. I would love to be one of them, returning your generous gift of attention.